The order fulfillment is manual for now. That mean, you will have to send the order to the carrier of your choice. But you will have the customer's address to ship.
Note: We are working on robust shipping and order fulfillment functionality and support for some of the most popular carrier names, such as Post Canada, FedEx, UPS, DHL etc. This option will allow you to set up an automatic shipping rate calculator and generate postage labels with tracking numbers.
General Details
In this section, you will be able to view the order status, order date, earning amount from a specific order, customer id, email, phone number, customer IP etc.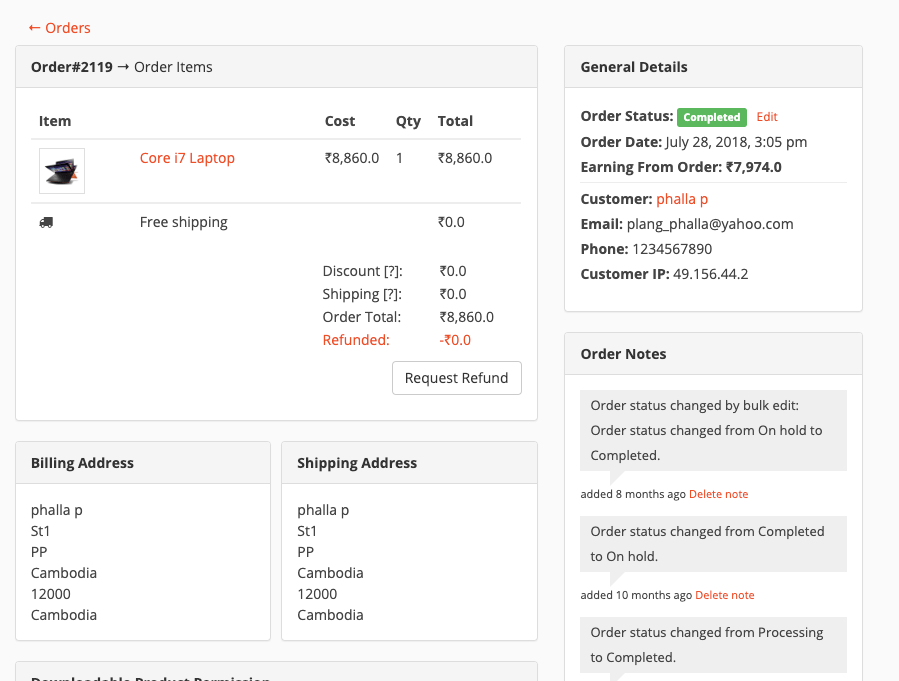 Download Permissions
The seller could manage download permission if the product is downloadable. He could add or delete download files and control access to download the file.
Shipment Tracking
You can track the shipment of the product that you are selling. Navigate to your Seller Dashboard → Orders → Click on the order you want to add shipment tracking. At the bottom of the Order, you will find a button titled 'Tracking Number'.
A new window will pop with three options. You can provide the shipping provider name or URL, Tracking number and Date shipped. After providing the information, click on the Add Tracking Details button.
The order details will be updated and a new order note will be added containing the tracking details. Your customer will receive an email notification with the tracking number and the order status.